Thursday, February 19, 2009
Whatever body shape you've got, you can make the most of it just by choosing the right clothing. Although beauty is what we believe to be, without going by any kind of set standards. However, If you might need to know what the current stereotype of a 'perfect' female and male body is?
For females, a 'perfect' body is a moderately tall and vertically balanced body. For males, it is considered to be tall with a balanced vertical body and a trapezoid torso - broad shoulders & chest tapering to medium waist & hips. If you don't have that perfect body- most of don't have it- no need to worry, just determine what your body shape is.
Determine Your Body Shape: Assess your vertical body proportions- the proportion of the bottom half of body as compared to the top half. Measure your full height and the height to your hip-line. Hip-line is the circumference around the hips where your bottom is fullest. Then determine where your hip-line comes in proportion to your height. Both males and females will fall in any one of the three body types,- Short Legs & Long Torso; Equally Measured Legs & Torso or the Balanced Body; and Long Legs & Short Torso.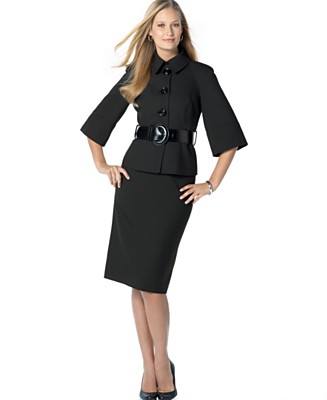 Short Legs & Long Torso
Do's: Dress for drawing attention to your shoulders and face. You'll be fine with short to medium-long tops, layered tops- might tuck-in tops but only if you don't have a big tummy. Medium or light tops with dark pants or skirts and wide belts will look good. Straight skirts and straight or boot-leg pants are good. Men should wear pants, socks and shoes of same color. Heels should be medium to high and pant hems to the ground.
Dont's: If you are short in height, avoid long tops, pants or skirts with dropped waistband. Tight or tapered skirts & pants and also the cropped pants are a straight 'no' for you.



Balanced Body
Do's: Draw attention to your shoulders and face. Wear medium-long, untucked tops. If tops and bottoms are in same color, it's better. Such tops and dresses that flow through the waist and straight or flared skirts, will also look good. Go for skirts and pants with narrow or no waistband. Waisted, low-rise or hipster pants, all are good for you.
Dont's: Avoid short or empire waist tops & dresses as also wide belts. Pants or skirts with high waistband will also look odd on you.
Long Legs & Short Torso
Do's: Draw attention down by wearing such skirts or pants that have border prints and medium-long to long accessories, of course, if you are not short. Wear dark color tops and skirts & pants in lighter shades. If you are short, wear tops that are no longer than knuckle length. Tops should be worn untucked and if these tops or dresses flow through the waist, it's great. Skirts & pants with narrow or no waistband, straight and flared skirts & pants or low-rise or hipster pants, all are for you.
Dont's: Avoid pin stripes, short tops, empire line tops & dresses, wider belts, tapered pants and skirts or those with a high waistband.
Now also do some color analysis to look your best!

This entry was posted on October 4, 2009 at 12:14 pm, and is filed under
Apparels, dresses
. Follow any responses to this post through
RSS
. You can
leave a response
, or trackback from your own site.
Indian Fashion Trends
Get the flash player here: http://www.adobe.com/flashplayer