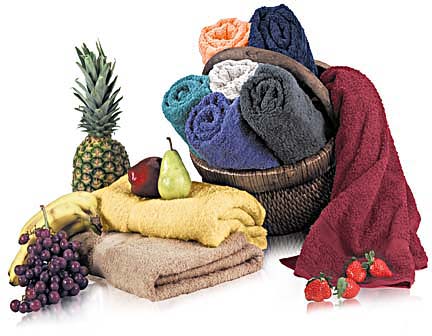 All of us have used cotton bath towels for a good portion of our lives. However, in this age of specialization, bath towels come in different materials and in a variety of sizes, patterns and colors. You have great options to choose from bath towels that are either comfortable, luxurious or eco-friendly. Some of them even have all the qualities!

Cotton Bath Towels
The natural cotton has a very good texture. It feels good against skin, and is very absorbent that makes it perfect for bath towels. Polyester is sometimes blended with cotton to prevent shrinkage and damage from wear & tear. However, such towels have lower quality than 100% cotton towels. Terry cotton is made by a weaving process that loops the fibers on both sides of the fabric. In the other variety- velour- these loops are cropped to give a smoother texture. However, velour has a tendency to bead water on the fiber which takes longer to dry. Velour towels are appropriate more for decorative purposes while terry cotton towels are for functional use.


Turkish Cotton Towels: They are thick, soft, and sturdy, and absorb water very well. More they are used, the more softer they get. However, using fabric softener when washing terry cloth towels affects their absorbency. Laundering the towels once or twice is enough to bring back their natural absorbent quality.

Egyptian Cotton Towels: Egyptian cotton is considered to be the finest cotton due to extra long fibers that make it soft and durable towel. However, they are a bit expensive than the terrycloth towels but give the real spa experience.
Organic Cotton Towels: Organic cotton bath towels, although costlier, are usually thicker and more plush. They contain around 700 grams of cotton per sq meter. The regular towels have only 200 to 400 grams of cotton per sq meter. They are environmental-friendly too. Organic Egyptian cotton bath towels are the most luxurious towels. They are extremely fluffy & absorbent, and generally larger than "regular" bath towels.

Bamboo Bath Towels
If you are more conscious towards environment, use bamboo towels. They are softer and dry quickly. Sometimes, they are blended with cotton. The best luxury bamboo bath towels have a nice blend of 65% bamboo & 35% cotton. Bamboo towels provide the best of both worlds- superior softness & absorption of bamboo and durability of cotton!


Microfiber Fabrics Towels
Microfiber Fabric is a synthetic fabric but have extraordinary qualities of absorption and cleaning. Towels made from it are thin, dry quickly, very lightweight and can absorb five times their weight in water. They are specially made for active sports purposes, so you can imagine how comfortable they would be even for daily usage!

Now when you know about all the available bath towels, Choose high quality towels. If you are going for eco-friendly towels, you can always recycle old bath towels!
Indian Fashion Trends
Get the flash player here: http://www.adobe.com/flashplayer